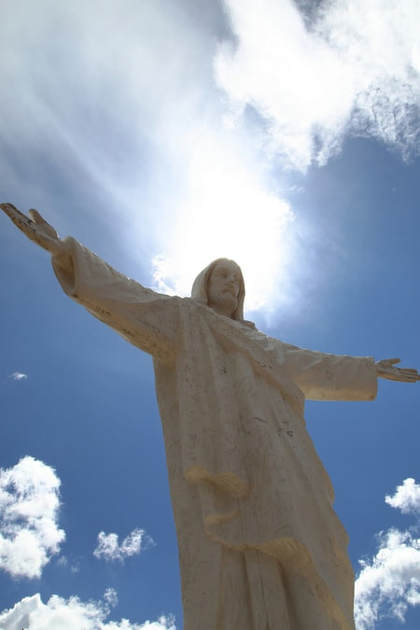 A CAREER CHANGE: Matthew 3:13-17.

The Bible doesn't tell us much about the childhood and early years of Jesus. Our Lord's public ministry did not begin until he was about 30 years old. Until then, he was a carpenter by trade.

The Bible does tell us that Joseph was a carpenter, and as was customary in those days, the father taught his son his trade. So, we can guess that Jesus was a carpenter for at least 15 years.

But now, a career change is in order. Jesus now moves from the business of his step-father to the business of his heavenly Father. He will trade in his woodworking tools of a carpenter and become a rebuilder of God' creation.

Can you visualize Jesus as he stands in his carpenter's shop for the last time? Can you picture him putting his tools away and clearing his work bench? Can you picture him sweeping up the sawdust on the floor? Can you see him standing there in the doorway of his shop for the last time?

Think of all the years Jesus spent in that carpenter shop. Think of all the things Jesus fixed and all the projects he worked on, all the things he made.

But now, it's time to begin a new project. It's time for a career change. Our Lord's journey out of the carpenter's shop will take him to the banks of the Jordan River.

There, standing in the water, is John the Baptist. He is a striking figure, dressed in camel skins with a leather belt around his waist. John's message was, "Repent, for the kingdom of heaven is at hand!" John baptized the people for the forgiveness of sins. He was sent by God to prepare the way for the Lord. Huge crowds of people came to him.

And now, here comes Jesus of Nazareth. He wants to be baptized, too. John hesitates. In fact, John tries to prevent this from even happening. John says to Jesus, "Look, I need to be baptized by you. Why do you come to me?" But Jesus says, "Let's do this. It is fitting for us to fulfill all righteousness."

In effect, Christ is saying, "This is all a part of God's plan. It is fitting that I undergo what everyone else is experiencing. I now take my place among sinners. I completely identify myself with those whom I have come to save.

John picked up on the fact that Jesus did not need to be baptized. He had no sins to wash away. He did not need to repent. And yet, the Sinless One takes his place alongside sinners.

Christ is numbered with the transgressors. He stands shoulder-to-shoulder with us sinners. Here, we see how Jesus officially begins his new career. He is baptized by John in the waters of the Jordan River.

As Jesus came up out of the water, the heavens were opened. And he saw the Spirit of God descending like a dove and coming to rest on him. And then, a voice from heaven declared, "This is my beloved Son, with whom I am well pleased."

Can you picture the scene? Can you picture the Holy Spirit descending in the form of a dove? Can you hear the soft flutter of the wings? Do you hear the booming voice from heaven, echoing across the river valley? "This is my beloved Son, with whom I am well pleased."

In the words of Isaiah, the Father declares, "This is my Son, my chosen one. This is my Servant in whom I delight. I have put my Spirit on him and he will bring salvation to the nations. A bruised reed he will not break and a faintly burning wick he will not quench. But he will fulfill all righteousness. With him, I am well pleased."

Why is the Heavenly father so pleased that his Son is baptized? Perhaps it was the same pleasure Joseph felt when his young son declared that he wanted to be a carpenter, just like his dad. Perhaps it was the pleasure of having a son who is eager to learn your trade, a son who will follow instructions, a son who will seek to excel at his work.

Jesus certainly went to work after his baptism. Now began the work of bringing salvation to the lost. Christ would now begin three years of non-stop work. He would preach and teach; he would heal the sick and raise the dead; he would feed the crowds and rescue those trapped by their sins.

Christ would travel up and down the land of Israel. He would fulfill all righteousness. It would all culminate in what Jesus later called "the baptism I have to undergo." This would be the baptism of the cross, that complete immersion into the penalty of sin. On the cross, Jesus would finish his work.

That wooden cross was much like the rough material that Christ had earlier turned into beautiful furniture or fine household items. But on the rough wood of the cross, nothing beautiful would hang. Only a broken body, wounded and dying.

But this death on the cross would complete our Lord's work. It would be the climax of his career. It would fulfill all righteousness.

Jesus would complete his mission as he is numbered with the transgressors. He would take his place among sinners. He would completely identify himself with us as he immerses himself in our sin and guilt. "God made him who had no sin, to be sin for us, so that, in him, we might become the righteousness of God."

And when Jesus died on the cross, the Father could have again declared, "This is my beloved Son, with whom I am well pleased." The Father could have said, "Good job, Son! I'm proud of you. You did a great job! Nice work."

Now, this is where it gets interesting. When Jesus was baptized, he left behind his carpenter's shop for a new career. Baptism made the switch complete. After Jesus is baptized, he never looked back. Something new began. God's work and God's mission now took center stage. The same is true for us.

When we were baptized, we were connected to the death of Jesus on that cross. We died with him, and then, we were raised from the dead, through his resurrection. Paul says, "We were buried with him by baptism into death, in order that, just as Christ was raised from the dead by the glory of the Father, we too, might walk in newness of life."

Baptism does bring newness. It brings a new life, a new beginning. We are born again by the water and the word, born again by the Holy Sprit who descends from us. Like Jesus, we are baptized and we begin our second career, so to speak.

We make a career change as we begin our true vocation of being God's children. We are God's children. The Father has claimed us as his own. He has put his name upon us. We belong to him.

Back in the days of the old west, there was a little girl who lived in a town on the prairies of North Texas. One Sunday morning, the little girl was baptized in her church. The next day at school, her friends asked her to describe her baptism. She said, "I was a little maverick out on the prairie. But when I was baptized, God put his mark on me and now I belong to him."

The word "maverick" was originally a man's name. Samuel Maverick was a Texas cattleman who, for some reason, refused to brand his cattle. Because of that, any unbranded animal that became lost came to be known as a maverick. Such a maverick became the legal property of anyone who found it.

When we were born into this world, we were spiritual mavericks. We were lost and straying far outside the boundaries of God's ranch, far from the Father's homestead. But the Father has called to us through his word. The Son of God has come to seek and save those who were lost. The Holy Spirit has brought us back into God's family through our baptism.

We are now no longer mavericks, but we belong to God. We have been marked with the sign of the cross, both upon our forehead and heart to show we belong to our Father. And like a dove, the Spirit has descended upon our shoulders and we hear a voice from heaven declare, "You are my beloved child, with you I am well pleased."

Today, God the Father speaks his word of grace. Today, God declares that it's time for career change. It's time to start a new chapter in our life. It's time for all of us to live as children of God and to walk together in newness of life. It's time for all of us to repent and believe the Gospel. It's time to love God and to love others.

That's our true vocation – to be the people of God, to be people who rejoice in the gifts God freely gives; to be people who live out their baptism everyday; to be people who are willing to love and serve others and to help them in their time of need.

Now we dedicate ourselves to the do the Father's work and to carry out the mission he has given us. There's no looking back as we begin our new career of following Jesus everyday and walking in his light. Amen!

+

YOU HAVE TREASURE IN HEAVEN: Mark 10:17-22

The story is told of a bishop in the Church of England long ago who once delivered a rousing sermon. He talked about how our earthly possessions don't last forever. The bishop said our greatest treasure in the gift of eternal life which Christ freely gives to lost sinners. That is our treasure in heaven, and it will last forever. But in this life, our possessions will eventually fade away. They are temporary, at best. In fact, we don't own anything in this life. Everything really belongs to God.

A wealthy parishioner was greatly offended by the bishop's sermon, and he told him so after the service. In fact, later that week, the rich man invited the bishop over to his estate for lunch. After lunch, he took the bishop on an extended tour of his property. He showed him his huge mansion, his elaborate gardens, his beautiful woodlands and his elegant stable.

When the tour was over, the rich man finally said, "Now then, are you really going to tell me that all these buildings and land really don't belong to me." The bishop smiled and said, "Ask me that same question a hundred years from now."

Today we hear about the story of a rich man who encounters Jesus. Our Lord is on his way to Jerusalem. A large crowd is following him. Suddenly, a man runs up to Jesus and falls on his knees before him.

He cries out, "Good teacher, would must I do to inherit eternal life?" And Jesus says, "Why do you call me good? No one is good except God alone. You know the commandments: 'Do not murder, Do not commit adultery, Do not steal, Do not bear false testimony, Do not defraud, Honor your father and mother."

And the man said to him, "Teacher all these commandments I have kept from my youth. There must be something more." And Jesus looked at the man and loved him.

Jesus loved him, even though he was wrong. This guy really thought he was keeping all the commandments, but he was wrong.

We don't keep the commandments the way God wants us to. We don't fully obey the law of God. We don't always put God first in our life, and it shows in the way we live and think.

We may deceive ourselves and say, "I'm not really that bad. I try to keep the commandments. I try to do what's right. I'm basically a good person."

But Jesus says, "No one is good. No one is good except God alone." And God gives us the commandments to remind us of that. We fall short of the perfect obedience and love God is looking for.

In the Sermon on the Mount, Jesus takes the commandments and applies them to our hearts. The commandments deal not just with our external actions, but also to our inner attitude and thoughts. The commandments reveal what is really in our hearts.

For example, Jesus will say that "Do not murder" means we should not hurt or harm anyone. Jesus says if you hate anyone, then it's as if you have committed murder in God's eyes.

In the same way, Jesus says that if you look at someone with lust in your heart, then, in God's eyes, you have committed adultery. Or again, if you think about cheating on your income taxes, you are stealing. Or if you spread malicious gossip about someone, you are giving false testimony. Or if you neglect your parents, you are not honoring your father and mother. Or if you are not honest in your dealings with others, you are committing fraud.

The law of God reveals what's inside our hearts. It judges our thoughts and attitudes, it show us our true condition. We are sinners and we have a real problem with hatred and lust, greed and envy, selfishness and pride.

No one is good except God alone. We all fall short in someway. All of us have a different weakness, a different area in our life where we continually fail. For one person, it might be the love of money; for another, it might be sex. For some, it's a self-righteous attitude; for another, it's jealousy and envy. For someone else, it might be a constant lying and basic untruthfulness. For some, it's fighting and arguing and making trouble. For others, it's a lack of faith.

We all have our sore spots. And that's why the commandments come to us and they speak a word of judgment. The commandments are like a mirror that shows our true reflection. They reveal our true condition when we stand before God.

And so, our Lord uses the commandments to show this rich man his sore spot. Jesus wants him to see that he wasn't truly keeping the Law of God.

So Jesus says to him, "Okay, so you keep the commandments, do you? You still lack one thing: go and sell off everything you have and give the money to the poor. Then, you will have treasure in heaven, and come, follow me."

Our Lord says, "Take all of your money and throw it away!" And the man says, "What do you mean, 'Throw it away?' I can't do that! I've worked hard to get everything I have. I'm not just going to throw it all away. I've given my whole like over to accumulating my possessions."

"Exactly," says Jesus. "That's just it. You've give your whole life over to money and possessions. You worship your possessions more that you worship God. You need to stop serving those things and seek first the kingdom of God.

Jesus says, "No one can serve two masters. Either he will hate the one and love the other, or he will be devoted to the one and despise the other. You cannot serve both God and money."

You see, Jesus wanted this man to realize that he wasn't keeping the first commandment, much less the rest of them. Jesus knew his spiritual condition. He knew that he was not putting God first in his life. And so, Christ tells him to give away his possessions.

Remember, Christ looked at this man and loved him. He loved him! And he wanted him to see that salvation is totally a free gift of God. There is nothing we can do to inherit eternal life.

No one is good except God alone. No one is good enough to go to heaven. We are all lost sinners, and we are all trapped by our earthly desires and constant shortcomings. But the good news today is that Christ has come to seek out and save lost sinners like you and me. The Lord looks at our situation and he loves us. He loves us, even though he knows we are wrong.

In fact, he loves us so much that he came down from heaven to enter our life. The Son of God becomes like us in everyway - everyway, but one. Christ was without sin. He was perfect. He never committed any sin or broke any of the commandments. He kept the law perfectly in thought, word and deed.

In this way, our Lord does everything necessary so that we might inherit eternal life. Jesus fulfills the law so that we might be made right with God.

God the Father now covers our life with the life of Jesus. He covers up all of our imperfections with the perfection of Jesus. For the sake of Christ, God declares we are righteous and holy and forgiven. God gives you the righteousness of Christ.

Imagine that! You are forgiven and made right with God. You have eternal life. You are a part of God's kingdom. You are now freed up to look at your life in a totally new way. You can take your old life and your old way of thinking and just throw it away.

And now, when it comes to money and finances, we don't have to live in constant worry and anxiety about the future. You don't have to worry so much about your life, or how you are going to pay the bills.

Remember, our earthly possessions are temporary, at best. If we rely on them to make us happy, we are going to be disappointed. In this life, we may enjoy many material blessings. We may have lots of money, possessions and wealth, and there's nothing wrong with that.

But now we know that there is more to life that just having wealth and possessions. There's more to life than worrying about our finances and how we are going to make it. There is more to life than just having earthly possessions.

You have treasure in heaven! You have Christ. You have eternal life. Let go of your worries and fears and burdens. Lay them down at the foot of the cross. Receive that peace which on Christ can give.

Jesus says, "Do not worry so much about your life. Who, by worrying, can add a single hour to his life? But seek first God's kingdom and the righteous he gives. Your Father in heaven will take care of you. He knows what you need. He will provide."

Jesus says, "Do not worry about tomorrow, for tomorrow worry about itself. Each day has enough trouble of its own. But, put God's kingdom first. Seek to serve God and love him only. Put God first in your life, then, come, and follow me, and you will have treasure in heaven."

You have treasure in heaven! You have Christ and the gift he gives. This is the greatest gift of all - God's love, God's forgiveness, God's gift of eternal life in Jesus. Your treasure in heaven! Amen!

+


LOST AND FOUND: Luke 15:1-24

We start today with a story. Two inexperienced hunters went up to Alaska to do some big game hunting. The game warden warned them that they might get lost. He told them, "If you get lost, fire three shots in rapid succession. I will then come and find you."

Well, sure enough, they did get lost. The first hunter said to the other one, "You'd better fire those three shots." And so he did. But nothing happened.

They waited a while, and then the first hunter said, "You'd better fire three more shots." And so he did. Again, nothing happened. This was repeated, several times. Three shots, nothing happened.

Finally, the first hunter said, "Look, it's getting dark and we're really lost. You'd better fire three more shots." And the second hunter said, "I can't. I've run out of arrows!"

I hate it when I get lost. Especially when I drive down to Long Island to visit my daughters, I'll get lost. The towns all look the same after a while. You get turned around and confused. You lose your bearings. You get lost.
Or else I will lose something I need. I can't find my car keys when I have to leave the house. "Where's my wallet? Where are my glasses? Where's that note I wrote to myself so that I wouldn't forget that important thing I have to do today?"

Today, Jesus tells some stories about being lost. He begins by asking, "If you had ten silver dollars in your house, and you lose one of them, what would you do? Would you turn your house upside down looking for that coin?

"Would you take all of your furniture out onto the front lawn, tear up all the carpet and turn your whole house upside down - all in search of that one single coin?

"And if you find that lost coin, would you call up all your friends and neighbors, and throw a great big party just to celebrate?"

Or what about this: "If you had 100 sheep and one gets lost, would you leave the other 99 sheep unattended, just to go searching for that one lost sheep? Would you make an all-out effort to find one lost sheep when you already have 99 all safe and sound?"

And then Jesus tells the story of about a young man who is rude and rebellious. He rejects his father and family. He demands his share of his inheritance and leaves home. He goes far away, and they lose all contact with him.

Perhaps it was just as well because the young man got into all kinds of trouble – gambling, alcohol and drugs - a parent's worst nightmare. Finally, the son hits rock bottom. When he finally comes home, he does so in shame and disgrace.

But what does the father do? The father runs down the street to welcome and hug his lost son. He then throws the biggest party that anyone has ever seen to celebrate.

All these stories of Jesus are over the top. No one would ever consider it worthwhile to turn the whole house upside down to look for one lost coin. No one would leave 99 sheep behind just to search for one that got lost. No one would throw a party for an irresponsible kid who ruined his life.

No one would ever do such a thing. No one, that is, except God. Our God is full of surprises. He does the most unexpected and surprising things. God does what we would never do.

The truth is we live in a throw-away world. If something breaks, we throw it away. If the toaster breaks, we throw it away and buy another one. If we lose a pen, we don't waste much time looking for it; we just go to CVS and buy another one. If we lose some change from our pocket, we don't worry about it. It wasn't worth much anyway.

But these stories Jesus tells are in direct contrast to the throw-away world we live in. Our God is different. If someone is in trouble, God is concerned. If someone gets lost, he is searching for them. If we are broken and damaged, God doesn't just throw us away.

God has an obsession about each and every person living in this world. And God doesn't want a single person to be lost. Everyone is special. That's why God will go to any length to seek out and save the lost.

In fact, you can say that God specializes in finding what is lost, fixing what is broken, repairing what is damaged, and rescuing those who are perishing. That's the message of all these stories Jesus tells. You are deeply loved by gracious God! And everyone has value in God's eyes, a value that cannot be measured.

And furthermore, God's love will go to any length to save us. His love never gives up. God keeps on loving us, no matter what we have done. Like the father in the story of the prodigal son, God is waiting for you to return to him.

Do you remember how that story went? The father loved his son so very much. He never gave up on his child. His love never faltered, even as he waited day after day, looking down the road, watching for just a glimpse of his son coming back home.

And the father didn't put any conditions on his son's return. He didn't say, "If you clean up your act, then you can come home." No, he loved him, and he loved him unconditionally. He was prepared to take that chance of forgiving him. He was prepared to welcome back his wayward son, even though the son hadn't done anything to deserve it.

Look again at the beginning of our text. Do you see what it says? "Tax collectors and sinners were all drawing near to hear Jesus teach. But the Pharisees and scribes complained about this. They grumbled and said, 'Look at this! This man receives sinners and eats with them.'"

Imagine that! The Pharisees and scribes are actually upset and angry because Jesus was sharing the Gospel with the lost. "This man welcomes sinners and eats with them."

Jesus was reaching to those who were considered to be the very dregs of society – outcasts like tax collectors, prostitutes, bums and losers - people who had totally lost their moral compass. But notice that Jesus was also reaching out to the Pharisees and scribes as well.

In fact, all of these stories were told directly to the Pharisees and scribes to get them to realize that God cares about all people. And these stories about the lost coin, the lost sheep, and the lost son remind us that we are lost, too. We are no different from those tax collectors, prostitutes, bums and losers that Jesus encountered. We are sinners as well.

And we also need to hear the Gospel. We also need to discover the message of God's love for the lost. We also need to experience the powerful, amazing the love of our gracious God.

That's why the Son of God came into this world - to show us that God loves all people, and God wants all to be saved. God's love reaches out to the lost, and it grabs hold of all people, especially those who are broken or hurting inside.

Our Lord wants us to realize that even though we are sinners, God still loves us. Even though we've made a mess of our lives, God doesn't give up on us. Even though we don't deserve it, God still loves us, and he graciously forgives all of our sins.

Such forgiveness is possible because the Son of God was willing to go to the cross for us. There, upon that cross, Jesus became lost. He became lost, so that we might be found. He was forsaken, so that we might be accepted. He entered the depths of hell, so that we might experience heaven. He died on that cross, so that we might live.

Our Lord has paid the price for our sins. He carried our burden and suffered our brokenness. Through his sacrifice, we are healed and restored; we now receive a new and better life. "By his wounds, you are healed."

No wonder there's a lot of celebrating going on in Luke 15. Whenever something that was lost is found, there's a party. The shepherd who finds the lost sheep comes home, saying, "I am so happy I found my lost sheep. Let us celebrate!" The woman who finds her lost coin throws a big party, too.

When the prodigal son returns home, the father says, "This son of mine was dead, but now he is alive. He was lost, but now is found. Come on, let's celebrate and be glad!"

Today, we acknowledge our sinfulness. We confess we have repeatedly made a mess of our life. We are broken, bruised and banged up. We are hurting inside. And the truth is we continually get lost and lose our bearings.

But listen, "Jesus receives sinners and eats with them." This means Jesus welcomes and receives us! He reaches out to us today with the good news of the Gospel. He searches, seeks out and saves those who are lost.

And now, the Savior invites us to his Holy Supper to eat with us. The Lord Jesus graciously welcomes sinners back into God's family. We were dead, but now, we are alive! We were lost, but now, we are found.

Therefore, open your heart to receive God's gift. Come now, celebrate and rejoice! Our Lord receives sinners and eats with them.

We are invited to his Table where he feeds us with his true body and blood. The Son of God receives us back into his company. The grand party is now underway. Come on, let's celebrate! Amen!



THE MAIN THING: 1 Thessalonians: 1-10.

Three women die and all three reach heaven at the same time. There, they meet St. Peter. He tells them he has some important business to take care of and asks them to wait outside. Finally, after a long while, he returns and calls the first woman into his office.

He apologizes for making her wait so long. "Oh, I don't mind at all," she says, "I'm just thrilled to be here." Peter is delighted by her attitude. He says, "Well then, if you can just answer one more question for me, we can finish processing your papers. Now tell me, how do you spell, 'God'?" The woman spells it for him, and she enters the gates of heaven.

St. Peter calls in the next woman and also apologizes for making her wait. "Oh, I don't mind," she says, "It's certainly worth the wait." Peter is pleased. He says, "Okay, if you can answer one more question, we can finish up here. Tell me, how do you spell, 'God'?" The woman spells it, and she enters heaven.

Finally, Peter calls in the third woman. He also apologizes to her, but she refuses to accept his apology. "That was quite rude," she says, "you making me wait like that. All my life I've had to wait. I wait in the checkout line, I wait in traffic, I wait at the doctor's office, I wait for the kids to get home from school, and now you expect me to wait to get into heaven? Well, I just won't stand for it!"

Peter says, "I'm so sorry you had to wait like that. If you can just answer one more question, we can finish up here. Tell me, how do you spell, 'Kyrgyzstan'?"

There are a lot of silly jokes about heaven. They usually feature Peter, pearly gates, people waiting in lines, and other stereotypes. I hope you realize that this is not what the Bible teaches.

Heaven is a reality that is beyond our ability to imagine or describe. It is far more wonderful and awesome than we could ever expect or comprehend.

St. Augustine, the great teacher of the early church, was once discussing heaven with several of his students. They all had the usual questions people have: "What will it be like? What kind of bodies will we have? Will we recognize other people? What about eating and sleeping?" On and on the questions went.

Finally, Augustine said, "Look, you are missing the main thing. All those questions are fine, but main thing is, 'How do I get there?'"

How do we get to heaven? That's the main thing. How do we enter eternal life? How can we be saved? What must we do? And can anybody really be certain of their salvation?

This reminds me of something you've probably heard before. It goes like this. Suppose you were to die tonight. You suddenly find yourself standing before the judgment seat of God.

God then asks you, "Why should I let you in heaven?" What would you say? Think about it. If God were to say to you, "Why should I let you enter heaven?" what would you say?

Most people would probably say, "Well, I deserve to go to heaven because I'm not so bad. I'm a good person. I've never done anything that bad. I try to do what's right."

But the truth is we are not such good people. When we stand before the judgment seat of God, our true condition is revealed. We are not good. In fact, we are just the opposite.

We are sinners, and we have a real problem with anger, lust, greed, jealousy, pride, hatred, and selfishness. We struggle to do what's right. In fact, we find it much easier to do what's wrong. The truth is we constantly rebel against God and question his wisdom and ways.

The truth is that we don't deserve to go to heaven. Instead, we deserve to go to hell. We deserve to be punished for our sins. Deep down inside, we know that's true. We know that we are not good or wonderful people. We are lost and fallen sinners.

If we try to pretend this is not the case, then, we are only putting lipstick on a pig. If we think we can go to heaven because we are good and deserve it, we are kidding ourselves. The truth is not in us. What we need to do is simply stand before God and confess, "Lord, have mercy on me, a sinner!"

And if God were to ask you, "Why should I let you into heaven?" you should simply answer, "Because you gave your Son to suffer and die for me."

You see, that is the main thing: Jesus. He is the One who rescues lost sinners. He is the One who suffers our punishment. He is the One who suffers hell and damnation, so that we might enter heaven and have eternal life.

"For God so loved the world that he gave his only Son, so that whoever believes in him should not perish, but have eternal life."

That's the main thing: Jesus. He is the One we point to when we stand before the judgment seat of God. Our Lord gives us that certainty of knowing that we are loved by God, and our sins are totally and absolutely forgiven. This undeserved love of God now puts our hearts at rest. It lifts us up on eagles' wings. It bestows peace and serenity. We now have that reassurance that we always safe in God's love.

Today, we hear St. Paul speak of this in 1 Thessalonians. Paul first of all says, "My dear friends, we know you are loved by God and that he has chosen you."

Notice how Paul says, "You are loved by God. He has chosen you." Now, think about that! God loves you, and he has chosen you by grace to be his child. Isn't that amazing?

Paul then continues, "We know this is so because our Gospel came to you not just in words, but also in power and in the Holy Sprit and with full conviction."

Paul speaks of the power of God's Word and the power of the Holy Spirit who brings full conviction. The Bible is not just information. It's not just facts and figures like you might see in a magazine or read in a newspaper. But the Word of God is the very power of God, his power unto salvation.

The Word delivers Christ straight into our hearts. The Holy Spirit works through this Word of God to create saving faith within us. The Spirit leads us to the cross and empty tomb. The Sprit brings us to faith. That is the Holy Spirit's job.

And when this happens, God fills our hearts with certainty and conviction. We now know that salvation is a free gift. And God's gifts always bestow joy and confidence, even in the face of suffering and hardship.

Remember that Paul was writing to the people who were experiencing great hardship and difficulty. These Christians were being persecuted for their faith. They were struggling to get by and were having a tough time.

Yet, even in the midst of all this suffering, Paul could say to the Thessalonians, "You received the Word of God while you were experiencing much affliction. Yet, you received that Word with the joy of the Holy Spirit. Now, you have become an example to all the believers in Macedonia and Achaia. They hear how you turned away from false idols, and have turned to God. You now serve the living and true God and you wait for his Son from heaven. This is the One whom he raised from the dead. This is Jesus who delivers us."

Here once again, Paul leads us back to Christ, back to the One who delivers us from our sins and the depths of hell. That's why Jesus Christ is our hope, our certainty and confidence.

Like the Thessalonians, we receive the Gospel and turn to God. We put our faith in the Lord Jesus, and that makes all the difference. Even in the face of suffering and tough times, we turn to the Lord for help and deliverance. He is the true Son of God and he is our Savior.

Now, we can stop putting our faith in ourselves. We can stop thinking that we deserve to go to heaven, or that somehow we have to merit God's love. But now, we let go of all those false notions and we just relax and accept God's free gift.

That's when we discover the true joy of the Holy Spirit. We discover the amazing power of God's Word. We experience the certainty and conviction of eternal salvation. Now, we learn to live by faith, and we simply trust that God is in control of all things, even our salvation.

One last point before we end. There is a variation to the question I asked earlier. It goes like this. Imagine that you have just arrived at the gates of heaven. A voice says, "What's the password? Speak the password and I will let you enter."

You stand there outside the gates of heaven and you scratch your head and think for a moment. You finally say, "Password? Is it, I've been a good person?" "No!" the voice booms out.

"Is it, I tried my best?" "No."

"Is it, I was sincere?" "No."

"I always did what was right?" "No."

Finally, you just stand there and say, "Well, I don't know. I give up."

And the voice booms out, "That's it! If you really give up, you can come on in."

The point here is that when we stand before God, all we can say is, "I give up. I give up all my false notions about how to be saved. I give up this idea that I have to be good to go to heaven."

Here, we simply say, "Lord, I totally rely on your grace to rescue me. There's nothing I can do to merit salvation. I know that I am a sinner; however, I also know I am a forgiven sinner. I simply trust in Christ."

That's the main thing: Salvation is free gift of God's grace. I go to heaven only through Jesus Christ. He is the only Savior and I know that he loves me and forgives me. He is the main thing and the only thing that matters in the end. Amen!


+

WHEN YOU COME TO THE END OF YOUR ROPE: 1 Kings 19:1-21

What do you do when you come to the end of your rope? When the bottom is reached, when the rope runs out, when you are all alone, what then? What is beyond the end of the rope? No more rope is left. You have only another day to face.

Do you ever feel like that? Do you ever feel like you've come to the end of your rope? Do you ever feel like there is no hope and no reason to go on? Do you ever feel like just giving up?

Today we look at the prophet Elijah. Elijah has just come off the heels of a great victory. The story is familiar.

There was a great contest between Elijah and the prophets of Baal on Mt. Carmel. Baal was a false god that the people of Israel had started to worship. King Ahab was a big fan of this Canaanite god. Encouraged by his wife Jezebel, Ahab led the people astray by forsaking the one true God and by advocating the worship of Baal.

Elijah confronted the prophets of Baal and challenged them to a contest on Mt. Carmel. Elijah had two altars built. He then told those prophets to pray to their god Baal to come and set the sacrifice on their altar on fire. They prayed and prayed for hours. They danced around and chanted all day, but nothing happened.

Then, Elijah told the people who had assembled, "Now watch what God can do." Elijah prayed, and fire from heaven set his altar ablaze. All the people cheered and cried out, "The Lord is God! The Lord is God!"

You would have thought the people of Israel would have regained their senses. Surely now they would follow the one true God once again. Surely they would return to the Lord who had rescued them from the slavery of Egypt so long ago. Now they would come back to the God who had made a covenant with them at Mt. Sinai.

But that was not the case. Very soon afterwards, Elijah found himself on the outside looking in. Queen Jezebel was so angry about this contest she vowed to kill Elijah that very day. The prophet of God had to flee for his life. Elijah took off, heading south as fast as he could run.

Elijah learned there are no permanent victories in this life. The people had cheered for him on Mt. Carmel for a day, but they quickly fell back into their old ways. They started worshipping Baal once more.

And so, Elijah fled down south into the wilderness of the Judea. And as he did so, both his body and mind went into hiding. He went into a deep depression. He began to feel sorry for himself.

The injustice was just too much. It seemed like the Lord had let him down. God had given him a great victory, but then allowed this terrible crisis to happen. His life was now in danger. He had to run away to save his skin.

And it felt like God had deserted him. Elijah felt all alone, discouraged, frustrated and afraid. He had come to the end of his rope.

This happens to us, too. Life is not fair. Things may be going well for a while, but then, everything falls apart. A sudden crisis comes and everything becomes unglued. That's when we struggle. We stumble and fall. The sun stops shining. Suddenly, all is dark. We slip into a deep depression. We come to the end of our rope.

What is beyond the end of the rope? When the bottom is reached and the rope runs out, what then? When all is dark and it seems like there is no hope, what should we do?

It was at this point that Elijah had a choice to make. The next day came and it found him sleeping under a tree. He was exhausted and out of gas. But God sent an angel to wake him up and to feed him. This happened not just once, but twice.

Then, the angel said, "Okay, Elijah. What's it going to be? Are you going to just say, 'No,' and continue to wallow in your self-pity? Are you going to keep running away from all your troubles? Or, are you going to get up, and say, 'Yes?' Are you going to say, 'Yes' to God, 'Yes' to life, 'Yes' to hope?"

Elijah finally got up. He arose and went to a cave on Mt. Sinai. Here, Elijah begins a dialog with God. He told God all of his troubles and the Lord listened.

God actually started the conversation by saying, "What are doing here inside this cave?" And Elijah said, "Lord, I've reached the end of my rope. Look, I have served you faithfully, but I've got to say, I feel like you let me down. Your people have forsaken your covenant; they have thrown down your altars. They have killed all your prophets. I'm the only one left, and now Jezebel is seeking my life."

And God said, "Okay, I hear you. Now, go stand outside. I have something to say to you."

Elijah then goes outside and a great wind comes roaring by, but God was not in the wind. A great earthquake then shook the mountain, but God was not in the earthquake. A blazing fire appeared, but God was not in the great fire. Then, the sound of a gentle whisper came to Elijah.

God was in that whisper and he told Elijah to go back to the land of Israel because he still had some work for him to do. God told Elijah that he knew what he was doing. He had matters well in hand. God was still in control, and he had a plan for Elijah and his people, Israel.

God basically told Elijah, "You should stop complaining so much. My grace is sufficient for you. My power is made perfect in weakness."

In other words, when you reach the end of your rope, you discover that God is there. In fact, he has been there all along. What is beyond the end of the rope? God!

And notice how God doesn't come to Elijah in the great wind or the powerful earthquake or the roaring fire. But God comes to us in a gentle whisper.

God comes in a gentle, quiet way. God speaks to us through simple words written in a book, through the plain waters of Holy Baptism, though the ordinary bread and wine of Holy Communion.

God speaks to us through Word and Sacrament. God comes to us in worship and he says, "What are you running away for? Why do you think that you are all alone and that no one cares about you? Why do you think all is lost?"

God comes to us when we are at the end of our rope, and he speaks to us in a gentle, quiet whisper. God does not speak to us in a great big wind or an earthquake or fire. But he comes to us in the sound of a gentle stillness.

That's how God saved the world – the gentle stillness of his Son dying on a cross. That happened on a dark Friday afternoon. All was quiet and still. The sun had stopped shining. Total darkness covered the land. A deep silence descended upon Golgotha.

Left all alone, deserted and abandoned by all, the Son of God carries the sins of the whole world upon his soul. All alone, he bears our punishment, he suffers our anguish, and he carries our burden. Jesus reaches the end of his rope as he suffers and dies for all.

Our Lord reaches the end of his rope as he dies upon that cross. He is abandoned and forsaken, rejected and persecuted, crucified and killed. He dies and is buried.

But in the quiet stillness of an early morning only a few days later, we discover the gentle whisper of an empty tomb. We discover that there is life after death. There is sunshine after darkness. There is joy after sadness. There is hope after depression.

You see, in Christ there is victory and this is a permanent victory because this is the victory of his resurrection and the promise of the life of the world to come.

Through the cross and resurrection of Jesus, we discover that God is with us. He is with us even as we struggle with our depression and darkness. God is with us, even as we reach the end of our rope. God is with us, even when we feel like giving up.

Here is a wondrous grace, a grace that reaches out to you today. God says, "I know what you are going through. I know your pain and struggles. I know your loneliness and grief. And I care. I deeply care about you and I always have and I always will. Never forget that. Never forget how much I love you."

God says, "Remember the story of Elijah and how he struggled. Remember my Son, and how he suffered for you. But also remember that his tomb is now empty. Christ has risen and he lives for you. Never forget that I am in control of all things, and I have a plan for you and your life. I am with you always!"

Now, we are able to get up and face another day. Now, we have the confidence and strength that God gives. Now, we get up and say, "Yes!"

We can carry on, knowing that even though we go through the ups and downs of life, the Lord is with us. He will help us through those valleys of depression.

And with God's help, we can say, "Yes" to another day. We can say, "Yes" to life, "Yes" to hope in Christ. We say, "Yes" to the gift of grace God freely bestows. Amen!