The Lutheran Church of Madison, Connecticut.
9 Britton Lane, Madison, CT 06443; 203-245-4145.
A congregation of the Lutheran Church – Missouri Synod.
​Pastor Volker Heide.
Saturday Worship, 5:00 p.m.
Sunday Worship, 9:00 a.m.
Bible Study, 8:00 a.m.
Next Contemporary Worship: Wednesday, July 24, 7:00 p.m.
We look forward to seeing you this weekend! Our Church Home is:
A Place for Worship: The primary reason we meet together is to focus our attention on Jesus Christ, the Son of God, giving Him our worship and receiving His blessing and inspiration. Each of these occasions is a special time of spiritual refreshment. We hope this is what you experience every week.
A Place for Learning: To us, studying the Bible is vital because it not only instructs us intellectually, but also guides us spiritually. We believe it and accept it as God's Word to us, a Book that is alive and relevant to life today. Learning its truths is a thrilling adventure.
A Place for Enrichment: For every person at every age level we offer a wealth of opportunities – special programs, service projects and ministries for children, youth and adults which fill the church calendar. You can be sure that in this kaleidoscope of activities there's more than one place where you can be personally enriched.
A Place for Friendship: Nothing quite compares to the joy of Christian friendship. That's why we make it a priority to build lasting bonds between the members of our church family – bonds of concern and genuine commitment to one another. Best of all, this circle of care is ever-widening. We'd love for it to include you, too!
A Place for Service: Just as Jesus Christ came "not to be served, but to serve…" we accept our responsibility to reach out in service to others. This applies both within the church family and outside our fellowship. We seek to serve our Lord and our community. We look forward to serving you, and we hope to see you this weekend!​
---


JOIN US FOR BIBLE STUDY & LIVELY DISCUSSION THIS SUMMER:

We offer three opportunities for Bible Study every week this summer. Come and be a part of our ongoing study of God's Word. You will be richly blessed!


TUESDAY MORNING MEN'S BIBLE STUDY: 8:00 A.M.
Join us for breakfast & Bible Study every Tuesday morning at 8:00 a.m. Newcomers are always welcome. We feature a Bible Study that looks at current topics and favorite Bible passages.


WEDNESDAY MORNING BIBLE STUDY ON THE PSALMS: 10:00 A.M.
Become a regular participant in our Bible Study on the Psalms every Wednesday at 10:00 a.m. A free Bible Study Guide is available.
Upcoming lessons include:
+ July 10: Psalm 34: O Taste and See That the Lord is Good
+ July 17: Psalm 46: A Mighty Fortress is Our God
+ July 24: Psalm 51: Create in Me a Clean Heart
+ July 31: Psalm 67: Cause His Face to Shine on Us
+ August 7: Psalm 73: Guide Me With Thy Counsel
+ August 14: Psalm 84: From Strength to Strength
+ August 21: Psalm 90: Teach Us to Number Our Days
+ August 28: Psalm 91: On Eagles' Wings
+ September 4: Psalm 96: Sing Unto the Lord a New Song
+ September 11: Psalm 100: Make a Joyful Noise


SUNDAY BIBLE STUDY ON GALATIANS: 8:00 A.M.
During the summer, our Sunday Bible Study is looking at St. Paul's Letter to the Galatians. This class features lots of lively discussions and practical application to our spiritual life.
Upcoming lessons include:
+ Faith Comes From Hearing God's Word.
+ Being Declared Righteous by God.
+ The Law and the Promise.
+ Baptism and Belonging to God's Family.
+ Paul's Concern for the Galatians.
+ The Story of Hagar and Sarah.
+ Finding Freedom in Christ.
+ Living by the Holy Spirit.
+ Doing Good to All.
+ God's New Creation in Christ.

COME AN BE A PART OF OUR BIBLE STUDIES!

ALL ARE WELCOME! WE WOULD LOVE TO HAVE YOU JOIN US!


---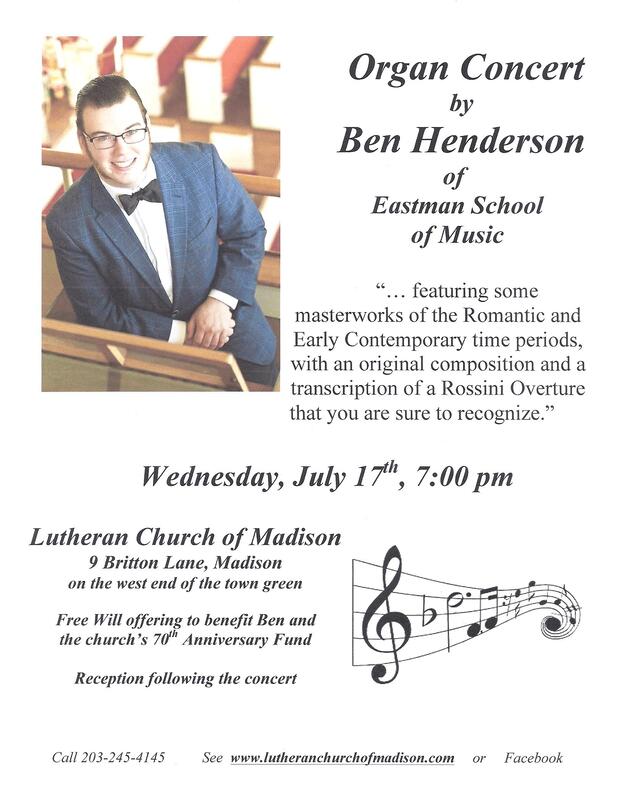 ---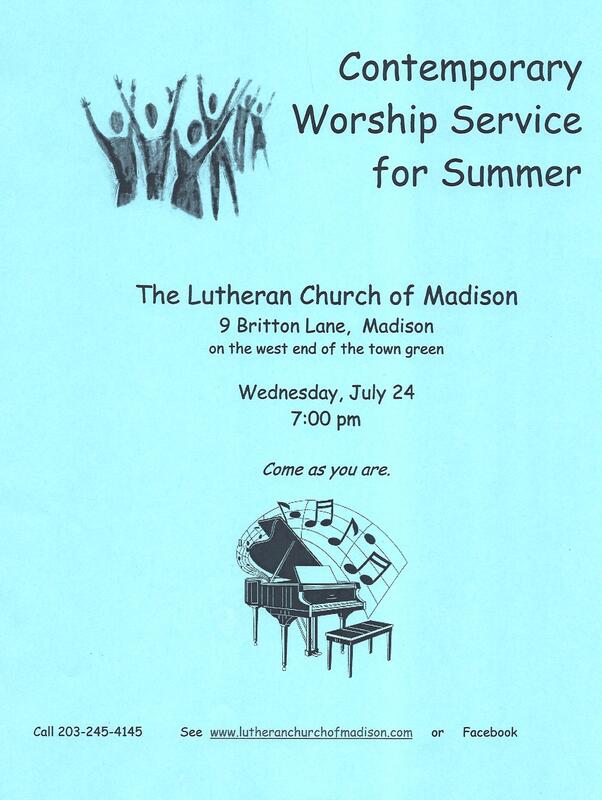 ---
---

​HELP US TO CARRY OUT GOD'S MISSION: Make an online donation to support our mission of sharing God's love in Jesus Christ. Your gift will help us to do God's work in our community and to share the gospel. Join us as we serve our Lord and our community. See the link below to make an electronic donation. Thank you!


---